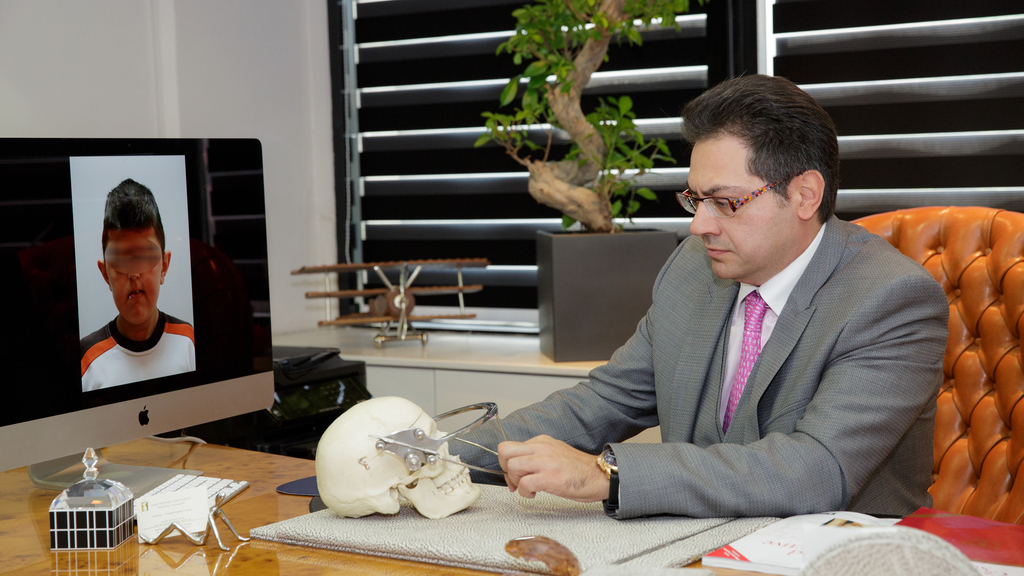 Konstantinos Alexandrou graduated in 1985 from the Medical School of Athens being granted a scholarship from Papadakis Foundation. He, then, completed his training in General Surgery in Greek public and private hospitals.
In 1992, he was granted a four-year scholarship from the Japanese Ministry of Education for Training in Plastic Surgery. In Kagawa University in Japan, he  specialized in Congenital Malformations (cleft lip / palate, microtia) as well as in Reconstructive Microsurgery and Cosmetic Surgery (blepharoplasty, rhinoplasty, otoplasty).
Dr. Alexandrou continued his medical training in the U.S.A., when, in 1996, he accepted a proposal for Craniofacial Surgery Fellowship by Professor Joe McCarthy at NYU. There, he received specialized training in several fields such as management of patients with craniofacial malformations and orthognathic surgeries, with extensive application in Cosmetic Surgery.
During his stay in the United States,  Dr. Alexandrou was educated in New York, in numerous prestigious medical institutions among which, Tisch Hospital, Bellevue Hospital, and Manhattan Eye Ear and Throat Hospital (MEETH).  Alongside his training in craniofacial surgery, he specialized in cosmetic surgery procedures such as face lift (lifting or rhytidectomy), rhinoplasty, abdominoplasty (tummy tuck), liposuction, breast augmentation / reduction and breast reconstruction.
Upon his return to Greece, Dr. Alexandrou began his career in the Hellenic Craniofacial Center under the guidance and support of his mentor, Dr. Alexandros Stratoudakis who entrusted him with the continuation of his work taking into consideration his professional ethics, scientific training and surgical skills.
Today, Dr. Alexandrou is the director of the only Craniofacial Center that exists in Greece, one of the nine recognized centers in Europe. From this position, he continues his activities in the field of craniofacial and aesthetic surgery, as Plastic Surgeon and Oral & Maxillofacial Surgeon.
Dr. Alexandrou, respecting the patient's individuality and specificity of needs, always aims at the best natural effect that fits best to each case. The result is also guaranteed by the thorough and meticulous care that is provided in cooperation with prominent hospitals.
In the scientific field, he has exhibited a large number of scientific studies, presentations and lectures as well as articles that have been published in Greece and abroad.
EDUCATION
1996 Fellowship IN Craniofacial Surgery - Plastic and Reconstructive Surgery Institute, University of New York, New York
1992 - 1995 Specialty in Plastic Surgery, Kagawa University, Japan (Scholarship from the Japanese Ministry of Education)
1989 - 1991 Specialty in General Surgery, in Metaxas and Amalia Flemming Hospitals        
1979 - 1985 He was graduated from the Medical School of Athens (Scholarship from Papadakis Foundation)
ACTIVITY SECTORS
Cosmetic Surgery
Face lift (Rhytidectomy or Lifting)
Endoscopic Brow Lift (Forehead Lift or Browplasty)
Blepharoplasty
Rhinoplasty (Nose Surgery) – Nasal Septum
Chin Surgery (Osteotomy)
Otoplasty (Ear Surgery)
Orthognathic Surgery (Lefort 1, Sagittal Osteotomy Upper & Lower Jaw)
Breast Augmentation
Breast Reduction
Breast Lift, Mastopexy
Gynecomastia
Liposuction
Abdominoplasty (or Tummy Tuck)
Body-Lift
Brachioplasty (Arm Lift Surgery)
Fat Grafting
Injections (Hyaluronic – Botox)
 
Reconstructive Surgery
Cleft Lip & Cleft Palate
Facial Fractures
Skin Cancer
Breast Reformation (with the use of Dilator - Expanders, Implants, Autologous Tissue Regeneration)
Microtia
Congenital Dysplasias of the Face and Skull (Craniosynostoses, Syndromic Diseases)
Wound Repair
Companies Member / Member of:
The Greek Society of Plastic Surgery
Director of the Hellenic Craniofacial Center
Coordinator of Plastic Surgery Clinic "Athens Genesis"
Former Director of Maxillofacial Surgery of "Metropolitan" Hospital"
Former member of Japan Society of Plastic Surgery
Former member of Japan Society of Reconstructive Microsurgery
Contact Info
Konstantinos Alexandrou
Clinic Address: 296 Kifissias & Navarinou 40 - Halandri - P.O.:15232
Tel. Contact: +30 210 7239510
mob.+30 694 461 2244